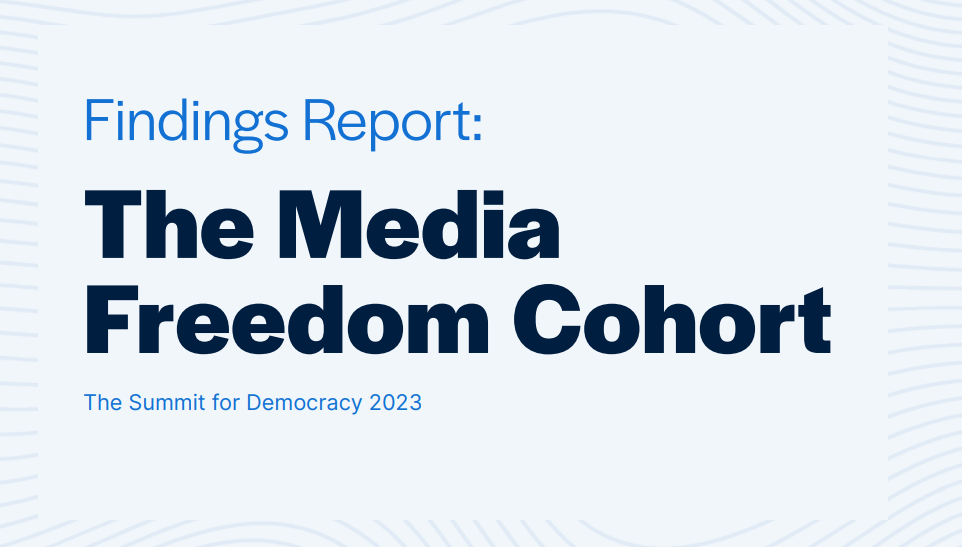 100+ GOVERNMENTS, CSOs, CORPORATIONS, AND MEDIA GROUPS ISSUED COORDINATED COMMITMENTS TO PROTECT MEDIA FREEDOM WORLDWIDE - Media Freedom Cohort creates unprecedented global partnership supporting independent media
Ahead of the second Summit for Democracy 2023 that was held on 28-30 March, the Media Freedom Cohort published its Findings Report which included commitments to protect media freedom worldwide from more than 100 governments, businesses, and media and civil society organisations. The commitments covered 3 priority areas of concern or working groups: protecting journalists' safety and security, advancing freedom of expression, and bolstering independent and diverse media.
Maharat Foundation was among the civil society organisations who committed a pledge for 2023. Maharat had previously joined 2 working groups on protecting journalists and bolstering independent and diverse media.
Actors behind the commitments include 27 governments, leading news organizations and civil society groups. Looking beyond the Summit for Democracy 2023, the work of the Media Freedom Cohort will continue through the Media Freedom Coalition, co-chaired by the Governments of Canada and the Netherlands.
Maharat Foundation is a member of the Consultative Network of the Media Freedom Coalition, which Lebanon is a member. However, Lebanon has failed as a member state to sign many statements of the MFC and has not engaged in any commitment to protect independent media and journalists.
However, Lebanon's many challenges impeding a protective ecosystem for media viability were present in the 2023 Democracy Summit, and were shared by Maharat's executive Director Roula Mikhael in the GFMD media viability event in the Hague on on March 29th.
It is to note that series of restrictions on freedom of expression and free media in Lebanon coincided within the same week of the Democracy Summit including calls for investigations against journalists using criminal procedures, which led to movements and statements by the Freedom of Expression Coalition and the Coalition for the independence of judiciary demanding an end to restrictions on freedom of expression and free media.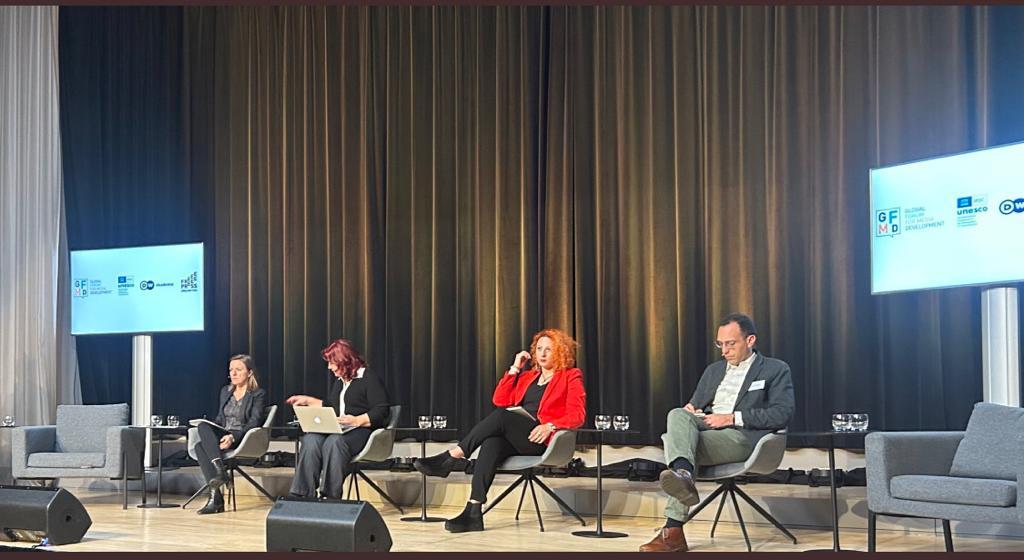 What is the Summit for Democracy?
In late 2021, US President Biden hosted a Summit for Democracy, at which countries from around the world gathered and pledged concrete actions to advance democracy at home and around the world. In March 2023, a follow-on Democracy Summit was held. This second summit highlighted progress against commitments made in the first summit, as well as new commitments to advance democracy by a wider array of stakeholders.
What is the "Media Freedom Cohort"?
A multi-stakeholder platform which aims to bring together civil society actors, media and other private sector leaders, philanthropic partners, academics, and government decision-makers, with a shared commitment to making concrete progress in improving media freedom.
Who is leading the "Media Freedom Cohort"?
Civil society lead: Internews
Government leads: Canada and the Netherlands (the current co-chairs of the Media Freedom Coalition)
Based on the media freedom pledges made at the first summit, the Media Freedom Cohort's work has been divided into three priority areas:
1 - Protecting Journalists' Safety & Security: Digital, physical and psycho-social safety measures, insurance and legal assistance, designed to protect journalists and other media workers.
Civil society leads: the ACOS Alliance and IFEX.
2 - Advancing Freedom of Expression: Legal and regulatory reforms that protect freedom of expression, as enshrined in Article 19 of the Universal Declaration of Human Rights and the International Covenant on Civil and Political Rights.
Civil society lead: the High-Level Panel of Legal Experts on Media Freedom.
3 - Bolstering Independent and Diverse Media: Building funding models, industry standards and public policies that support the resilience and professional capacities of media outlets to survive and thrive in the coming decades.
Civil society lead: the Global Forum on Media Development (GFMD).
What is the Media Freedom Coalition and what are Lebanon's Commitments?
The Media Freedom Coalition is a partnership of countries working together to advocate for media freedom and safety of journalists and hold to account those who harm journalists for doing their job. The coalition's original members signed the Global Pledge on Media Freedom, a formal promise to support media freedom domestically and collaborate worldwide. Lebanon was one of the signatory states. Lebanon had signed the Global Pledge at the Global Conference for Media Freedom London, United Kingdom 10 July 2019 but abstained from signing the final statement of the ministerial meeting of the 2020 Global Conference for Media Freedom that was hosted online on November 16, 2020 by Canada and Botswana, as well as 2 statements in 2022 on Russia's Invasion of Ukraine and Assault on Media Freedom and on the International Women's Day 2022 statement to protect women journalists.