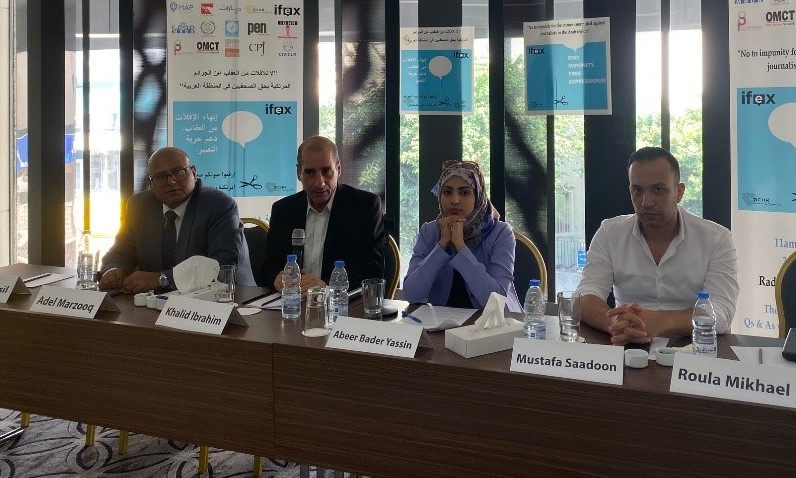 17 Human Rights Organizations Calling to End Impunity in Crimes against Journalists
"it was just a suicide" this was the report of the head of Sulaymaniyah police in Kurdistan Iraq after the assassination of journalist Amanj Babani and his wife the journalist Lana Mouhamadi and their 3 years old son found dead in their parked car in one of the Sulaymaniyah parking lots. The investigation reports contradicted what witnesses said who ensured that armed people shot them in their car.
The fate of Babani, a journalist opposing the authority in Kurdistan-Iraq, is similar to the fate of hundreds of journalists with impunity, where the 2018 report of Reporters without Borders shows that 80 journalists were killed in 2018 most of which remained without revealing the perpetrator.
Based on that, 17 organization including Maharat Foundation called for urgent actions to end impunity in crimes against journalists during an event held in Beirut on the 13th October entitled "Ending Impunity in Crimes against Journalist in the Arab region" at the Radisson Blu Hotel Verdun on the occasion of the sixth anniversary of the International Day to End Impunity.
The Gulf center for Human Rights participated in the event along with Bahrain Press Association, the Iraqi Observatory for Human Rights, Maharat Foundation and Media Association for Peace. The event included a photo exhibition on the occasion of the International Day to End Impunity to shed light on the journalists in the Arab region who were murdered in the past years in Palestine, Egypt, Bahrain, Syria, Iraq, Yemen, Lebanon, and KSA.
The event aimed to draw attention to the risks journalists face while carrying out their peaceful work in these eight countries and other countries in the Middle East and North Africa, as well as raising voices to strengthened the protection and safety of journalists. This includes journalists and professionals working in various media in war and conflict zones, as well as those who carry out their work in times of peace.