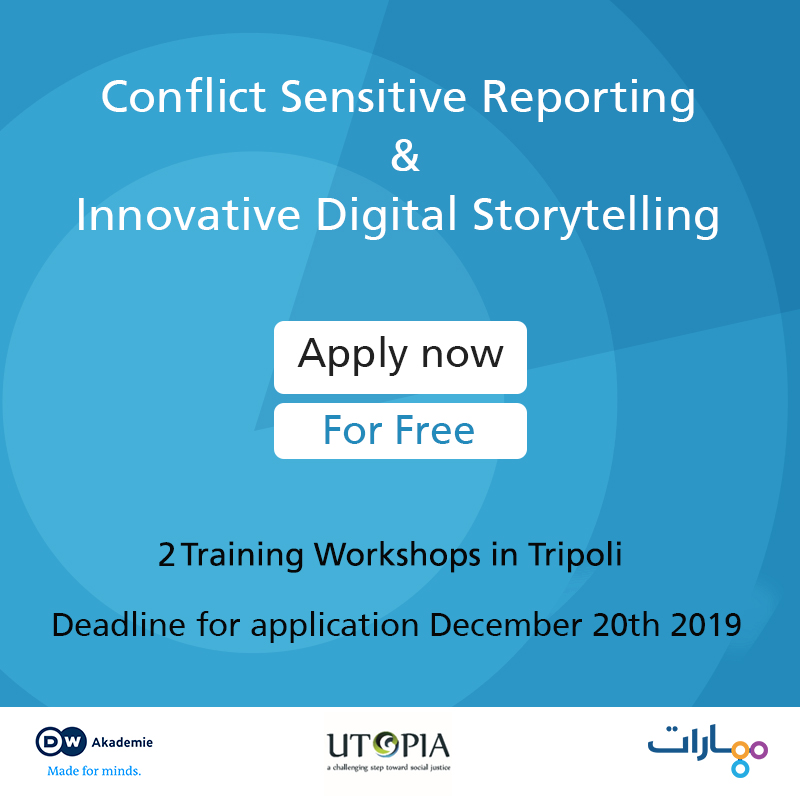 Training on Conflict Sensitive Reporting and Innovative Digital Storytelling.
Within the efforts made to promote professional skills for journalists and activists and to improve their coverage of conflict in Lebanon, Maharat Foundation is launching in cooperation with Utopia and Deutsche Welle Akademie 2 training workshops in Tripoly on Conflict Sensitive Reporting and Innovative Digital Storytelling.
The first workshop will be held along 5 days from the 22nd till the 26th of January 2020; and the second workshop will be held from the 5th till the 9th of February 2020.
The training will tackle many issues including conflict analysis tools, the role and responsibility of local media in covering conflict, and the role and responsibilities of journalists.
The second part of the training will tackle the production of media content including videos , images and other digital formats.
The trainers will cover both theoretical and practical parts, and will adopt interactive training methodology.
Criteria for application:
Media worker or journalist

More than 1 year experience in media and journalism

Resident in the north of Lebanon (Akkar, Tripoly, Menyeh, Batroon, Zgharta, Danniyeh)

Able to commit

Participating in the first workshop is a prerequisite for participating in the second workshop
Interested candidates can send an email to Mariam@mohannas.com entitled "Conflict Sensitive Reporting and Innovative Digital Storytelling including
CV
Brief explanation of why they are interested in participation
3 examples of media content developed by the candidate
12 participants will be selected. Deadline for application is December 20th 2019. The training will be conducted in the Arabic Language. Organizers will cover all expenses of transportation and accommodation in Tripoly.