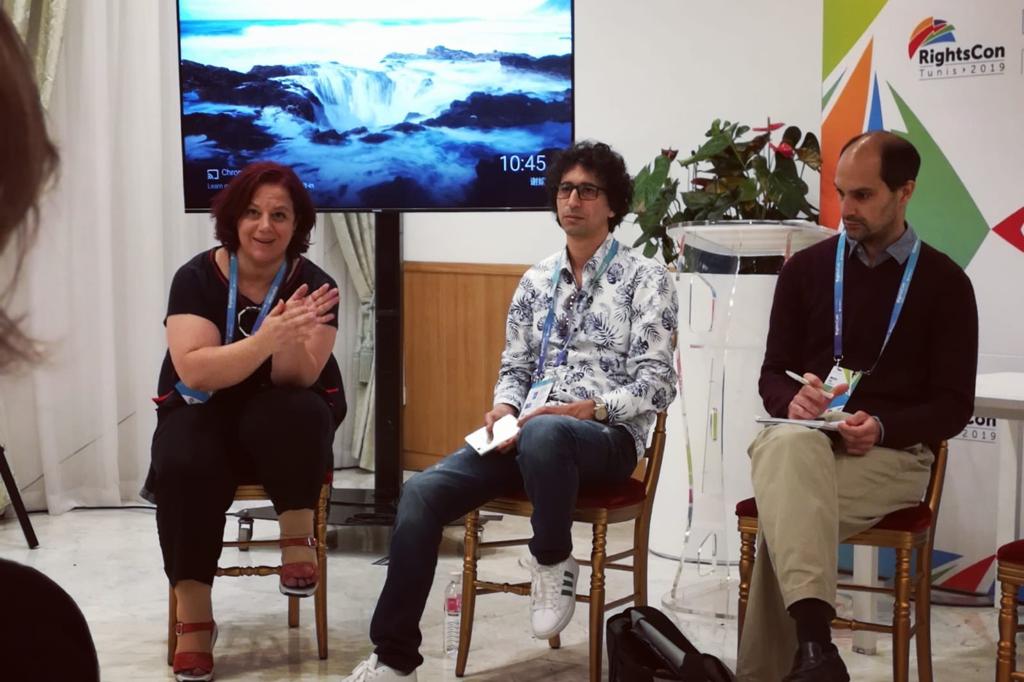 Maharat Participates in RightsCon in Tunisia: Solutions to Support Independent Media
Maharat participated in the international conference RightsCon that was held in Tunisia from the 12th till the 14th of June 2019, in the presence of more than 3000 participants from all around the world.
Maharat organized a session on the 14th of June entitled "How Can We Help Quality Journalism in the MENA Region Be Viable?", the speakers were Roula Mikhael the executive director of Maharat Foundation, Martin Vogl, project manager at Deutsche Welle Akademie, Hanane Boujeimi, expert in internet governance, and the 2 journalists Walid Mejri and Walid Ben Rhouma.
Media institutions suffer nowadays from finding innovative business models to ensure their viability while keeping quality content promoting accountability and fighting fake news.
The future of the media depends on finding tangible solutions to ensure its viability. The session, which was moderated by the Program Manager at Maharat Foundation Layal Bahnam , started from this problematic, discussing the indicators of media viability, presenting the challenges of independent platforms in the Arab world, and offering solutions from the "Digital Media viability Lab", which is an initiative of Maharat Foundation in partnership with Deutsche Welle Akademie.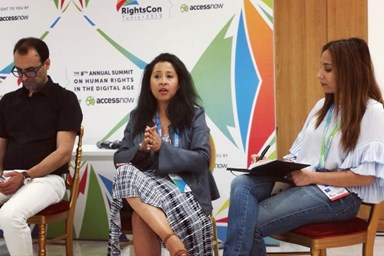 Vogl: viability of media is not only about money
Martin Vogl defined the concept of media viability that is not limited to financial aspect, but puts the media system in a wider perspective. In a research paper published by Deutsche Welle, where Maharat's executive director Roula Mikhael was a contributor, this media system was summarized into five dimensions: economical, political, content, technological and societal.
Mikhael: digital media viability lab promotes innovation and entrepreneurship
Mikhael completed the presentation of the Digital Media Viability Lab Initiative, which was launched based on the importance of finding solutions to support the independent platforms that were established with the Arab revolutions, but struggled to find sustainable models.
She added that the lab started working on building a pool of journalists who are knowledgeable about managing media institutions and conducted studies on media startups in Lebanon, Jordan and Morocco, and contributed through several conferences and workshops in presenting experiences and models from other countries, including Africa and Latin America. The lab also supports media startups projects and developing curricula at universities through innovative approaches to promote critical thinking.
Boujeimi: social media platforms are not the solution
Boujeimi talked about the need of innovative methods, especially the fact that media institutions should not rely on social media platforms, but should focus on local issues and try networking with local communities. In addition media education is the most important key to build an audience that value reliable and quality media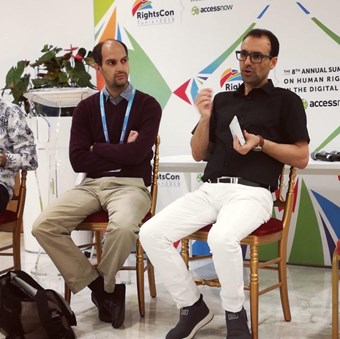 Mejri: we have to find parallel activities
The journalist Walid Mejri shared his experience in establishing many independent media platforms and the necessity of not relying only on donors' funds. He tackled the challenge of alternative models like subscriptions where there is lack of trust of using bank cards online in the region, and some beliefs that not everyone would have access to information especially to investigative reports. The solution according to Mejri is finding parallel activities like "Inkyfada" platform where they established a training center for investigative journalism, this center was able to reach after 5 years a 75% self sufficiency
Ben Rhouma: necessity of specialization and acquiring knowledge
The journalist Walid Ben Rhouma, the director of FM Express talked about his experience and the change of media scene before and after the revolution; where before the revolution it was forbidden for radio stations to tackle political issues which triggered him to specialize in economics. He said that the media management experience within the media viability lab taught him that specialization is the best solution to create a successful business model for media.
The recommendations:

Developing media education and curricula to promote critical thinking and restore confidence in reliable media
Launching more media startups
Making the most of the digital world and technology for innovation
Cross borders journalism partnership to reduce the costs of developing investigative reports and promote solidarity among journalists
Meeting with Article 19 MENA on the sideline of the conference
Maharat organized a meeting with Articled 19 MENA on the sidelines of the RightsCon in Tunisia on Wednesday 12th of June in which the two organizations gathered their partners from Tunisian journalists, and representatives of organizations working on freedom of expression in the region and are participating in the RightsCon conference, in addition to international actors and the Lebanese ambassador to Tunisia Tony Franjiye. The executive director of Maharat and the director of Article 19 MENA, Salwa Ghazawani welcomed the participants and focused on the importance of partnership between journalists and civil society to promote freedom of expression and access to information in the MENA region.
It was an opportunity to network with representatives from the international community and international organizations, especially UN Special Rapporteur on Freedom of Expression David Kay and UN Special Rapporteur on extrajudicial executions Anyes Kalamar, IFEX Executive Director Annie Gaim, Deutsche Welle Akademies' MENA director, Jens Rahe, and other actors in media development and the promotion of freedom of expression.