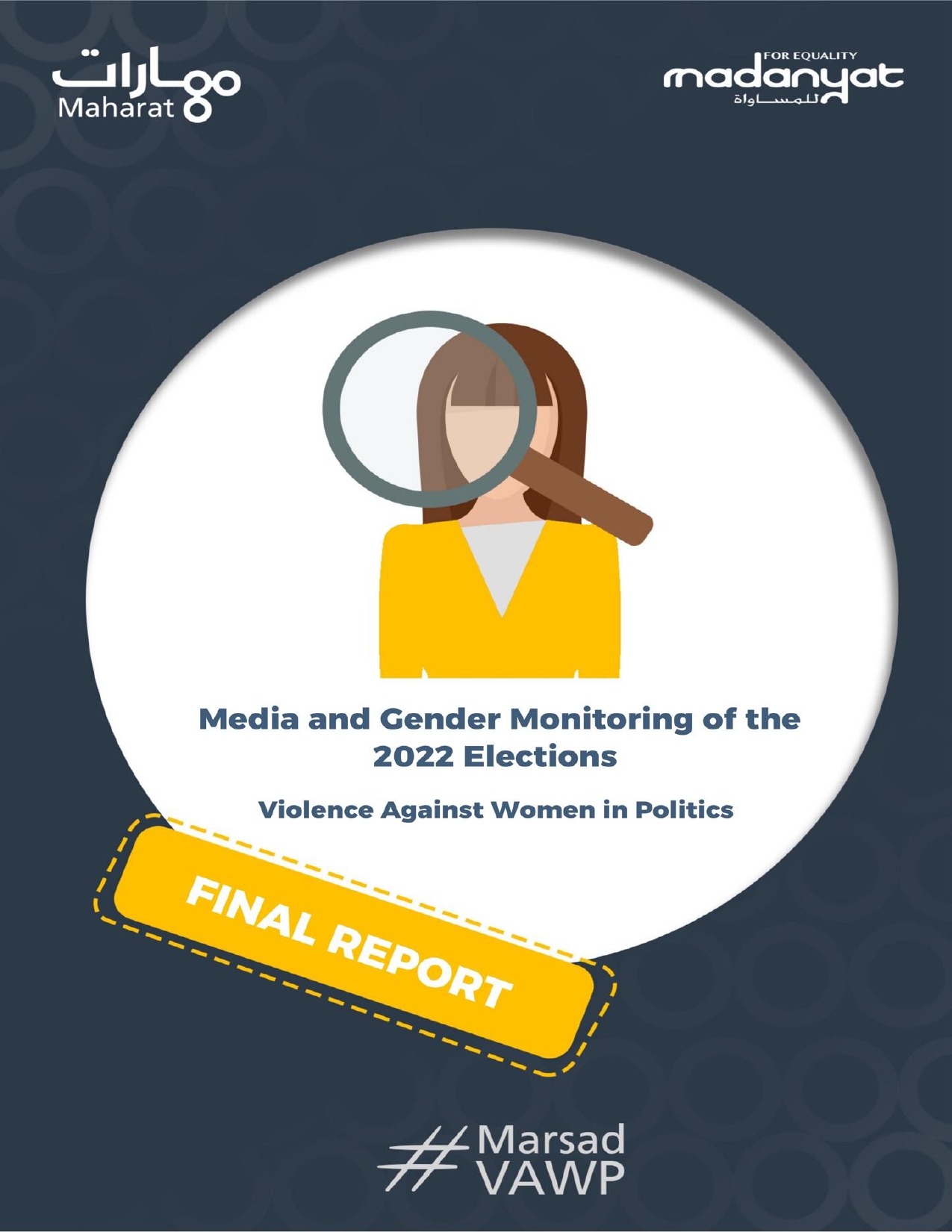 Media and Gender Monitoring of the 2022 Elections VAWP
Violence against women in politics is particularly widespread in Lebanon as women are subjected to many forms of violence including physical violence, psychological violence, and sexual violence, in addition to being marginalized in various spheres of public life. By perpetuating discrimination and harmful stereotypes against women in politics, media outlets and social media contribute to violence against women in politics. Similarly, social media are now used as a new way for perpetrators to subject women to violence. However, due in large part to the location of VAWP at the intersection of feminist and political science literature, research on and policy responses to VAWP have been negligible until a few years ago, especially in countries where women's representation is still low. Hence the importance of collecting and analyzing data in relation to that matter.
Therefore, this joint study between Maharat Foundation and Madanyat with the support of UN Women seeks to monitor violence against women in the political sphere during Lebanon's 2022 electoral period through media outlets and social media platforms by monitoring, documenting, and analyzing the political and media discourses during the electoral period to better understand violence against women in the public sphere through media and social media.
The study methodology included identifying relevant actors, the main media accounts that will be monitored on social media platforms, and the mainstream media, and identifying the relevant lexicon related to violence against women in the political sphere. To accomplish this study, news bulletins and talk shows of 7 TV stations were monitored, in addition to 117 social media accounts including female candidates, female activists and female political actors.
According to the study, 7% of all comments made on the monitored social media pages of the 18 female candidates during the month of March were motivated by gender violence. Based on a sample of 102 women candidates who were the most active female candidates on social media platforms in April, the percentage of comments on women candidates' sites falling into the category of VAWP was 2 percent.
However, it is worth mentioning that this drop in the percentage of VAWP comments during the month of April in comparison to the February-March period cannot be attributed to a decrease in the number of VAWP comments but rather to the larger number of monitored accounts, diluting the effect of VAWP on certain targeted women.
During the pre-election period, the proportion of VAWP comments rose from 2% to 3% in May compared to April. As for the post-election phase which extends from May 16, 2022, until May 20, 2022, 0,7% of the comments could be classified as VAWP based on the monitoring of the social media pages of 8 elected female candidates.
Maharat Foundation also monitored the presence of women across electoral and political TV segments and shows on Lebanon's television stations.
The findings show men dominated political discussions on TV from February to May, with male representation standing at 93% and female representation standing at 7% during the February-March period. As for April and May, male representation was respectively standing at 78% and 88%.
Furthermore, several incidents of violence on TV against female candidates were recorded during the period from February 2022 to May 2022.
In order to end violence against women in politics through media and social media in Lebanon, Maharat Foundation and Madanyat urge decision-makers to strengthen complaint mechanisms in the context of VAWP by involving various levels of judicial institutions. Maharat Foundation and Madanyat also call upon media outlets to ensure inclusive and balanced media coverage. Furthermore, social media platforms should adopt a contextual and cultural approach that ensures gender sensitivity in the context of content moderation. Moreover, women candidates should share experiences related to VAWP through increased networking in order to build best practices that will contribute to countering gender-based violence against women. Finally, Maharat Foundation and Madanyat call upon civil society to build a feminist platform to empower women in politics in order to create a common agenda to fight VAWP.
To check the report: