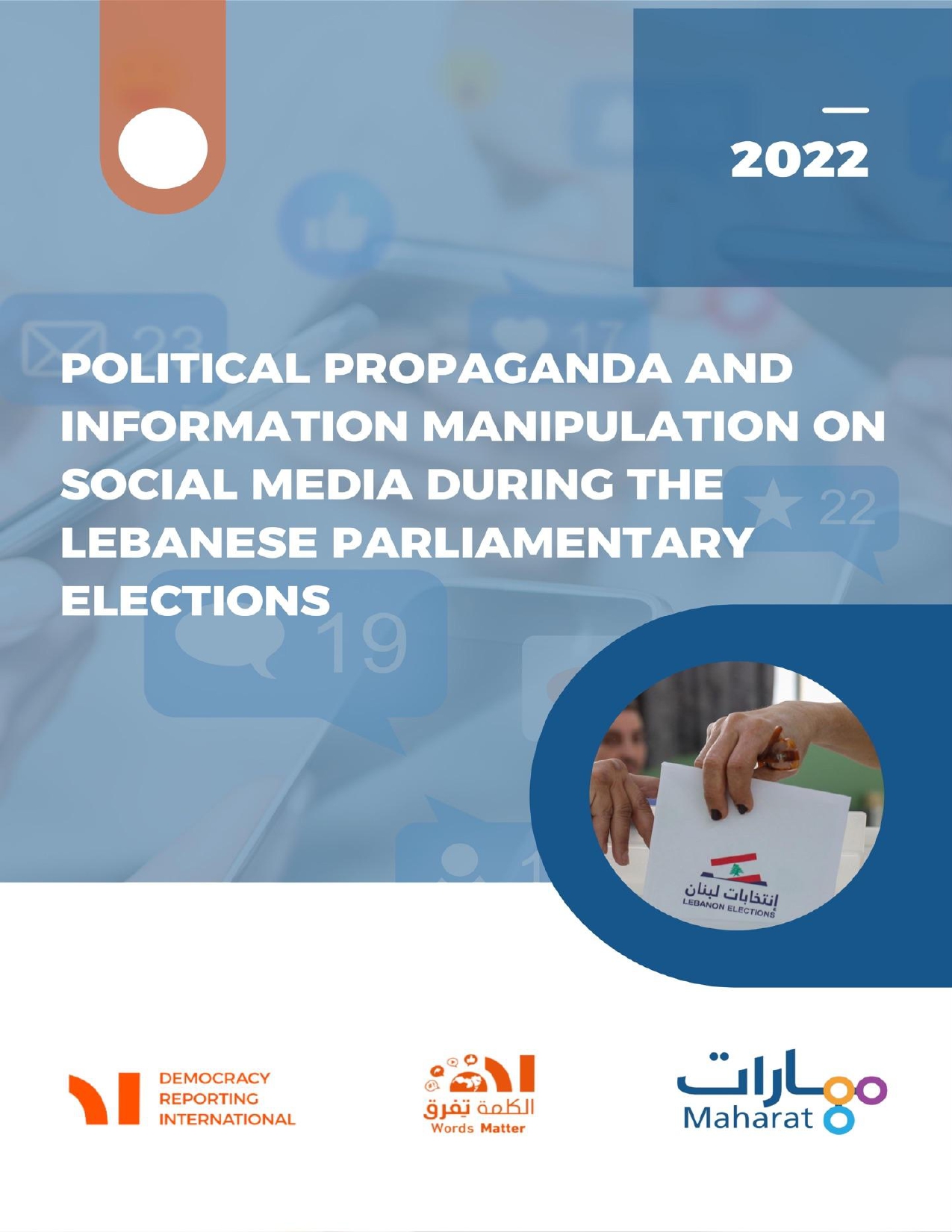 Political propaganda and information manipulation on social media during the Lebanese Parliamentary elections 2022
With the start of the election campaigns, the political discourse on the social media platforms such as Facebook and Twitter was monitored while focusing on 96 candidates from various traditional and emerging political parties, in addition to 11 non-candidate politicians and 25 influencers with multiple partisan and political affiliations in order to determine the type of political propaganda used, topics of political debate and streams in information manipulation. and mislead of the public opinion.
The process of monitoring the discourses included political actors of both genders whereby women constituted 20% of the observed sample.
The volume of posts and tweets monitored on the Twitter and Facebook platforms of the 132 actors among the politicians, candidates and influencers reached 2,628 posts/tweets from April 1 st to May 15 th , distributed mostly on Twitter as the primary chosen platform according to the monitoring methodology, and to a lesser extent on Facebook as a secondary platform for active users.
The percentage of political propaganda based on speeches aiming on triggering sectarian and political emotions was 49.5%. Electoral advertising discourses came in second place scoring a rate of 21.3%, which varied between the different actors. The total political discourses related to electoral programs and proposing solutions and alternatives reached 7.5% of the total observed political discourses by the political actors on social media platforms.
The history of the civil war, its events and political assassinations appeared at 1% in the political discourses, as well as 0.5% for the promotion of conspiracy theories (such as fear of social conflicts and postponing elections). This aims to strengthening sectarian and partisan ideologies and spread propaganda aimed at confusing and misleading the public opinion.
This study aims to monitor political discourse on social media for actors during electoral campaigns, specifically the following:
- Review the general context from which the electoral campaigns were launched.
- Determine the group of players and influencers on social media during electoral campaigns. Monitoring the content of political propaganda by political actors during electoral campaigns.
- Determine the topics on which the political discourse is based.
- Monitor campaigns of manipulation and misinformation during electoral campaigns and electoral silence and their source.
- Analyze the extent to which political propaganda introduced by actors and influencers effects public opinion.
- Monitor the public discourse that promotes hatred and violence.
- Monitor and analyze the gender dimensions of electoral campaigns.
To check the report in English, click here
To check the report in Arabic, click here
Maharat also participated in the report "Online Disinformation and Hate Speech in the MENA Region" as part of the "Words Matter" project, produced by DRI and its partners, including Maharat Foundation.
To check the report in English, click here