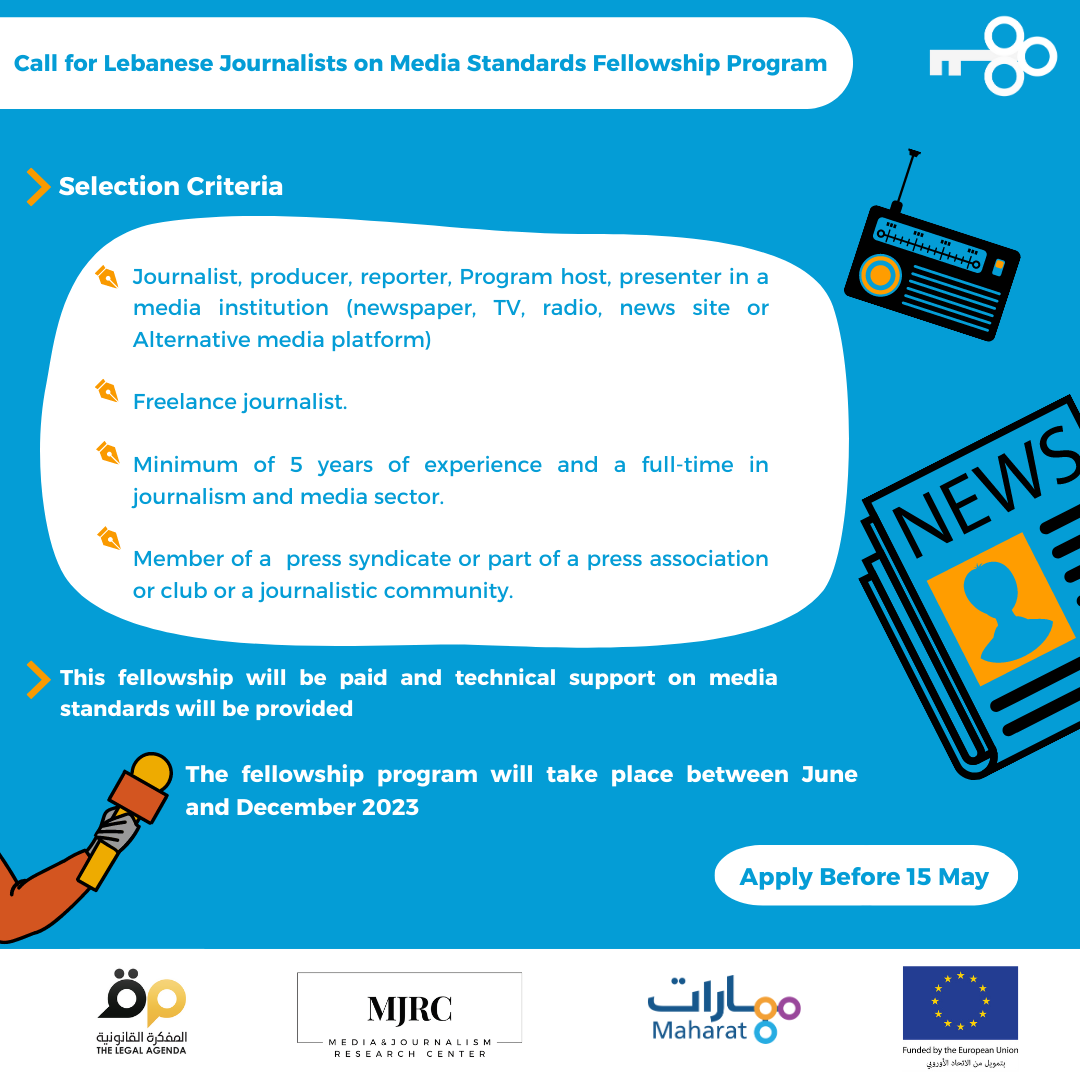 Call for Lebanese Journalists to apply for Media Standards Fellowship Program
Maharat Foundation is launching a call for fellowship applications. The call 'Media Standards Fellowship' consists of an ongoing exchange and engagement with a core team of 10 selected journalists, who can influence the public discourse once provided with the necessary knowledge on media standards and relevant updates on the media reform process.
Who can Apply:
- individual journalists,
- producers,
- correspondents,
- reporters,
- segments hosts,
- presenters
The engagement with the 10 fellows extends from June until December 2023. The 10 fellows will be amplifying the messages needed throughout the process of producing at least 2 media products and through the organization of other kind of dissemination activities. They will be invited to take part in the seminars and will receive all the papers produced through the action.
Duration and ٍSupport:
From June till December 2023, each fellow will receive an amount of maximum 2,000 Euros. In addition to financial support, the selected fellows will benefit from support in mentorship and technical assistance.
To Apply for the Fellowship:
Applications must be sent in English or in Arabic through submitting the following application google form:
To submit applications click here
Note: The google form should be filled with all the necessary information and required documents
Submission deadline is May 15, 2023
Applicants will be informed about the status of their fellowship request a maximum of 8 days after the submission deadline.
Below you will find the details of the fellowship in Arabic and English:
Call for Lebanese Journalists to apply for Media Standards Fellowship Program