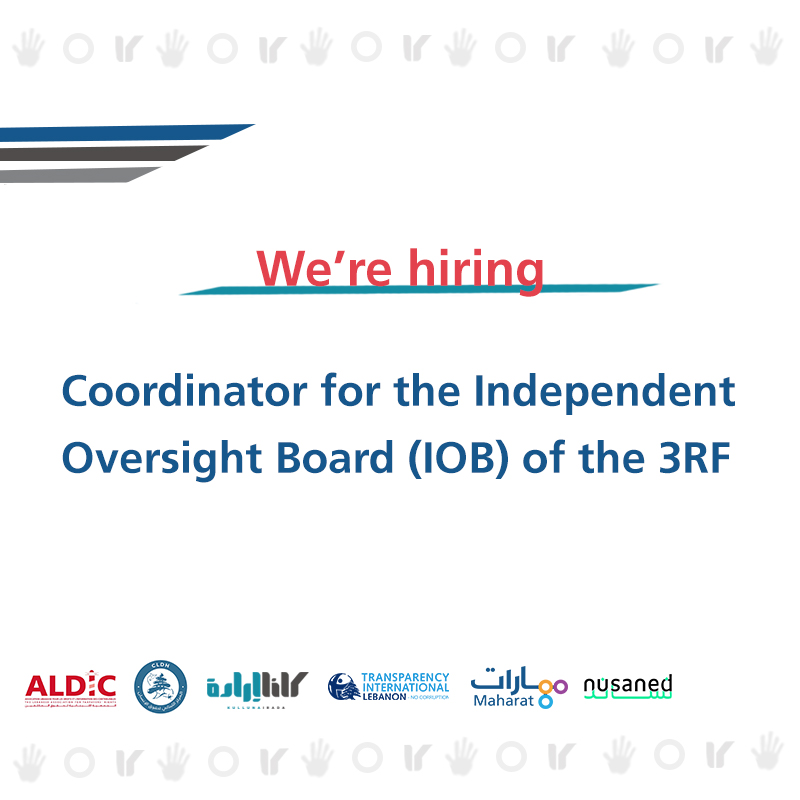 Application Form: Coordinator for the Independent Oversight Board (IOB) of the 3RF
Presentation of the IOB:
The IOB's mandate is to provide a civil society-led mechanism for broad oversight on the implementation of the Lebanon Reform, Recovery and Reconstruction Framework (3RF) and to hold 3RF stakeholders accountable for 3RF progress through ensuring overarching monitoring of the 3RF related reforms and programs. Composed of representatives of the Lebanese Civil Society as outside experts and civic leaders, the IOB assumes the responsibility to monitor the critical aspects of managing the aid process: effectiveness, efficiency and transparency. In other words, it tracks and analyzes the progress of the reforms assigned to the Government of Lebanon (GoL), and focuses on the effectiveness, efficiency and transparency of the operations being implemented under the 3RF framework.
The IOB is envisioned to serve as an independent mechanism for representatives from civil society and other institutions to provide broad oversight on 3RF implementation and hold 3RF stakeholders (i.e., government, civil society and development partners) and implementing organizations accountable for overall 3RF progress.
The current IOB members are representatives of the following CSOs: the Lebanese Transparency Association (LTA), Maharat Foundation, Kulluna Irada, Lebanese Association for Taxpayers' Rights and Interests (ALDIC), Nusaned and The Lebanese Center for Human Rights (CLDH).
The IoB coordinator would be acting independently and would be supporting the IoB members in their internal collaboration as well as in publishing all IoB positions (press releases, position papers, reports, etc.).
Responsibilities:

- Ensure internal coordination between IOB members

- Assist in the organization of meetings and workshops with the 3RF working groups.

- Assist in the publication of reports on the progress of the Government of Lebanon's commitment to reforms.

- Draft position papers, reports, and communiques and any other relevant and important document as per the decision of IOB members and in coordination with IOB members.

- Manage digital presence and communication of the IOB as needed through content updates.
Competencies:
- At least three years of experience in a similar position
- Excellent organizational skills
- Administrative skills, including archiving, documenting, and setting meetings
- Excellent writing and communication skills in English and Arabic
- Previous experience working with CSOs
- Excellent research skills
- Strategic thinking and problem-solving skills
- Excellent interpersonal skills

Deadline for Applications: February 2, 2023
To apply, please fill in the application on the following google form:
Application Form: Coordinator for the Independent Oversight Board (IOB) of the 3RF